Rostrevor-based firm East Coast Adventure has received a boost to its business in the shape of a loan from the Northern Ireland Small Business Loan Fund (the Fund) which has enabled it to expand its infrastructure and in the process create new jobs.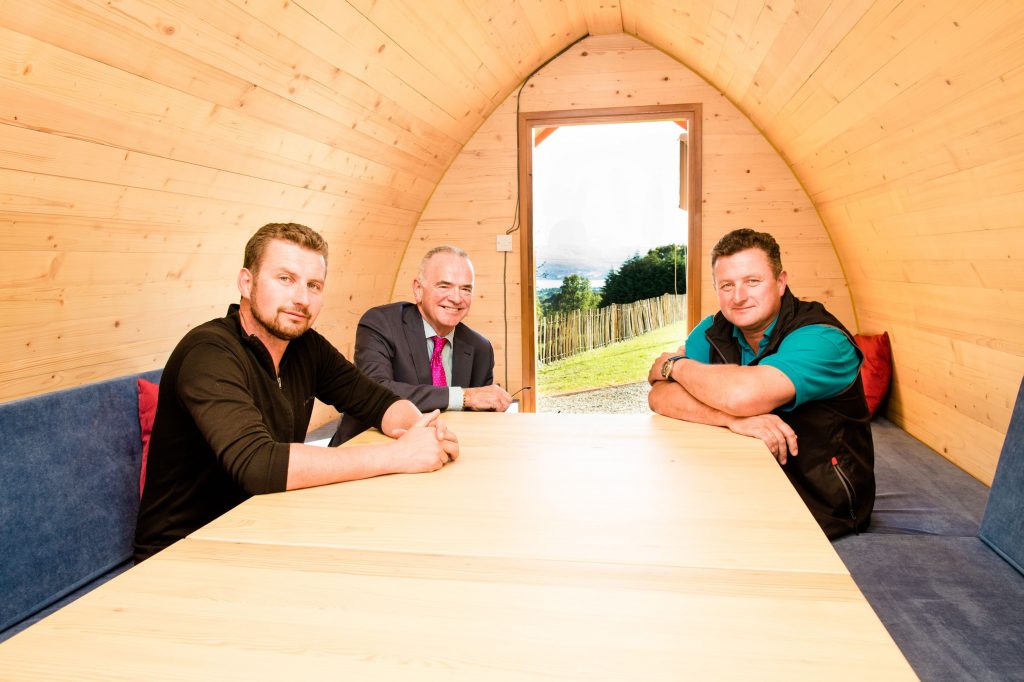 The Fund is managed by Ulster Community Investment plc (UCI) on behalf of Invest Northern Ireland. UCI is a subsidiary of social finance organisation Ulster Community Investment Trust (UCIT).
Founded in 1991 East Coast Adventure started out as a one man operation hiring canoes on the beach in Warrenpoint.  Today the firm headed up by Mark, Ian and Jennifer Cumming employs 30 people and provides an outdoor education programme, leisure pursuits and corporate team building activities from five locations around Carlingford Lough.  Over the last five years the firm has expanded to include a water-based activity centre, a mountain bike centre with the only uplift service in Northern Ireland, a golf driving range and Bunkhouse accommodation in the Knockbarragh Valley just outside Rostrevor village.  The business has proved particularly popular over the summer months attracting up to 200 visitors per day.
The investment has allowed the firm to build six self-catering camping pods and create three additional jobs.
Mark Cumming, managing director said: "We approached the Northern Ireland Small Business Loan Fund for support to help us expand our outdoor facilities.  The concept of camping has evolved over the last number of years with the emergence of glamping and these pod facilities, which bring a little bit of luxury to camping, have become very popular across the world.
"The pods contain a table and seating area that can sleep up to four people, with one of the pods being converted into a toilet and shower facility.  There is also an external camp kitchen and BBQ area for people to prepare meals. Our camping pods have proven very successful and we're already looking to expand their offering.  Recently we had a school from Russia spend several weeks here, utilising the pods and taking part in our developing language programme 'Active Learning Ireland'."
Highlighting their ambitions for the business, Ian Cumming, operations director stated the company's intention to continually expand and offer one of a kind camping experiences: "We have plans to build a tepee, as well as creating a communal area for the camping pods.  With these expansions there will be further job creation.  Mark also travelled to Moscow and St Petersburg at the end of September to pitch our developed language programme to seven more schools."
Chief Executive of UCI, Harry McDaid, said: "Since beginning in 1991, Mark and his team have shown tremendous energy and passion in developing these excellent outdoor facilities around Carlingford Lough.  The business once again demonstrates that far-sighted and competent management can deliver best in class performance across a wide range of sectors from our relatively small geographic base here in Northern Ireland.  It is the type of business the Loan Fund is delighted to support, with further potential for growth and additional job creation a bonus."
The Northern Ireland Small Business Loan Fund provides access to finance for small businesses, sole traders and partnerships which are keen to develop their business, but find it difficult to access funding through traditional sources. Those interested in finding out more about the Fund can visit www.nisblf.com